Apartment hotel in Paris
Bonjour,
welcome to the Masion le Bac's official website.
Best Aparthotel in Paris, located in the 2nd ARR district between the busy roads of Opera and Republique, distant little lofty gourmet Rue Montorgueil. Our aparthotel building goes back to seventeenth-century during the rule of Henry IV, lodging the illustrious grooms and stables. If you are planning a little trip to Paris travelling en famille, vacation or on a business trip; considering an apartment hotel with plenty of space for comfort would be something you'd love to be offered, right? We would be happy to help you fulfil your need with our collective efforts. Our Aparthotel meets all modern designs equipped with an elegant style of international boutique hotels. Each of our rooms are well decorated and themed, making them one of the best aparthotels. And their simple, fresh and warm style, and welcoming colours meet current city's design and comfort standards. An environment familiar with homely feels.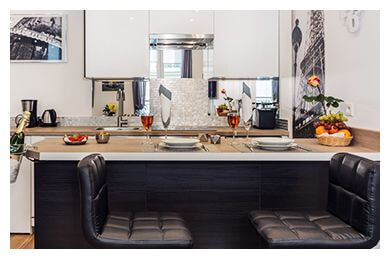 What shall be assumed of our aparthotels?
We offer a serene room stay with its courteously cosy queen-sized bed, has sufficient space for a peaceful moment to appreciate. Inside the aparthotel, just alongside is the cutting edge where resides recently revamped restroom. It's an aparthotel having high roofs and hardwood parquet floors is enhanced with tactful class in a very majestic and contemporary style. The location of our Aparthotel is perfect for the traveling industrialist and businessmen. The urban area's exhibition halls and other chronicled destinations can be found in the neighbourhoods. Extensive and open passageway giving a light happy parlour, completed with an open and loftily prepared kitchen. Confronting a wide screen TV is agreeable for leisured time and a class lounge sofa to comfort with, which can be changed into a 2-man couch bed. The Aparthotel is fully furnished remarkably. All the toiletries and sleeping accessories are provided by the Apartment hotel itself. All of our rooms evoke a feeling of comfort collided with contemporary urban designing, charm and high-tech amenities tailored to the business traveller's needs. Our apartment hotel is professional and amiable service crew is ever ready to make your stay as pleasurable as possible, is the reason why we have been awarded plenty accolades by many aparthotel booking engines and hotel booking services.
Which locations are adequately within reach from our premises?
On the off chances that you are searching for a speedy touring for a day, the Bonne Nouvelle (Metro Station) is simply stepping away with direct access to the Champs Elysees, Trocadero and the world-famous UNESCO world heritage site the Eiffel Tower is 6.5km away or you can just book a cab (15min drive).
It's a delighting place for shopaholic persons. The celebrated retail chains of Printemps and Galeries Lafayette on Boulevard Haussman. Shopping centres like Carrousel du Louvre and Westfield Forum des Halles are at strolling separations from each other. Poissonnière street is a beauty at night, full of lights, wonderful local shops offering plenty upfront and a lively but lessened crowd to admire. The atmosphere here is a stronghold for party freaks, book lovers and for those who are fond of historical facts. A great way to indulge yourself in the surroundings would be to check out the various restaurants, libraries and if you like rocking your boots. Check REX Club which are one of the trendiest places in the city.
The 17th era luxurious Apartment Hotel in Paris is at your administration giving agreeable friendliness in the screeching city of Paris. Maison Apartment Hotel is always at your service. The pleasure is all ours!
How to arrive at the Aparthotel?
The travel from the airport to our hotel or vice-versa is quite accessible with international airports in the vicinity.
Airport-Le Bourget: 36 min drive
Orly Airport: 40 min drive
Paris-Charles De Gaulle: 42 min drive
Beauvais Airport: 1hr 20 min drive